Navigating the Content Distribution Manager Homepage
From the Content Distribution Manager (CDM) section of the homepage you have full control of all recorded, posted, and new audio content. Previously recorded audio can be sorted by:
ID (each recorded audio is assigned an ID)

Title Description (each audio that gets recorded is given a title by you)

Created (the date the audio was originally recorded)

Posted (the date the audio was posted)
To sort recorded audio by a specific category you simply need to click the category name in the blue bar.
Creating, Naming and Categorizing New Communication in CDM
Using CDM you can record audio from anywhere and push it out to one, some, or all of your stores! To get started creating content, select the New button from the top middle of the Homepage. When prompted, enter in the Audio file name and categorize the communication by the purpose, description, and mode. This will allow you to easily find this communication at a later date. ​You then may begin recording.
Recording or Uploading Your Audio in CDM
Recording can be done either in the CDM directly or you can upload a .wav file from an outside recording tool. The CDM allows you to record and re-record messages as many times as needed to ensure the recording is clear and effective. ​We recommend using a microphone when recording to ensure strong audio quality.

Selecting Your Audience
Once you are satisfied with your audio message, it is time to assign your message an audience. Assign the audio as broadly as your full workforce or target messaging by selecting the appropriate segment of recipient stores or individuals​. Ensure your message reaches only the people that need to hear it.
Schedule Your Communication
Now that the audio content is created and an audience has been selected, the last step is to schedule the audio content to be scheduled to be pushed. Send your message immediately, or schedule the time, frequency and length of deployment. You can schedule recurring messages if needed and the time to expiration (live for an hour/ day/ week).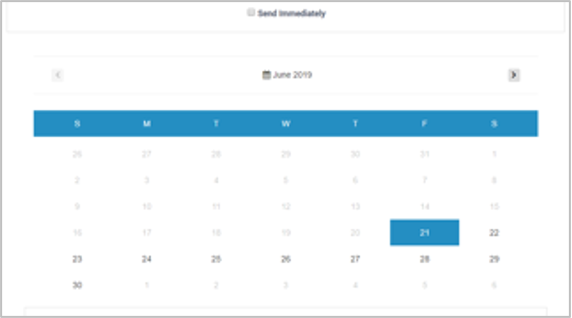 When finished selecting the date and time for the content to be pushed, the next step is determining a Time to Live (TTL) option—the length of time the content is available to be pushed to the selected audience. The content will be pushed out to employees in the selected audience that are currently logged on as well as employees that log on within the following TTL timeframes:
Now – 5 minutes

Hour – 60 minutes

Today – 12 hours

Week – 7 days
For any additional questions or information, please contact Customer Support.